Aileen and Elkin are taking a break from their travels.
Here's some news from previous years.
Another Winfield come and gone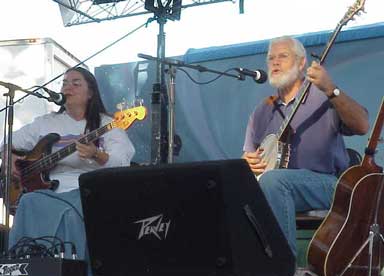 Another Winfield come and gone. We are safely home and settling in beneath the Guardian Pines for another Allegheny autumn and winter. And we are feeling thankful for 'more than together we can name,' as Elkin wrote in my favorite poem.
Such sweet times together in the Walnut Valley this year. We never remember the weather being better. Our new Australian friend, Tommy Emmanuel, added his considerable talents to the festivities and the crowds went wild. Lots of new little lives making their first appearances in Winfield as well -- young Mr. Schrag and the little Misses Flottman and Bate, among others. Among our faithful, Bernie and Peg and the Cobbs came the furthest - all the way from California. Our good friend, Lloyd Frank Wright, became the 2000 National Mountain Dulcimer Champion - and none of us could stop smiling after that, especially his folks, Jerry and Margaret, and big brother Hollis. All our performances happened in the daylight, which is the way we like it. Let the stars sparkle at night; we'll just shine with the sun. And our friends Dana Hamilton and Bill Thurman showed up at a couple of stages to play along with us - just like they do on the new MUSIC OF LIFE CD. A good time was had by all, and memories were made that will be shared and savored all year long.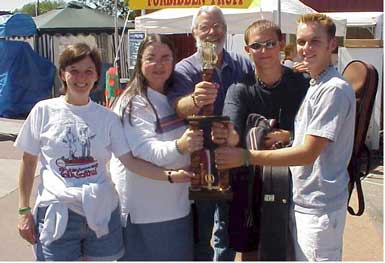 l. to r., Margaret Wright, A & E, Hollis Wright, Lloyd Wright.
Other stops along the way were memorable as well. Thanks to Ed and Melanie and all the folks at Faith Mennonite Church in Hutchinson; Vicki and the folks at FUMC Tonkawa; Jere, Jalyn, Jamie and the good people at Grace UMC in Winfield; Terry, Alyce, Mike, Larry, Ron and the members of the American Judges Association who listened to us sing a few tunes at the Arabia Museum in Kansas City; the Rotary Club in Winfield; Gail and Felix and Jeannie and the folks at the Winfield Country Club, who helped us host the 3rd Annual Elkin Thomas/Walnut Valley Golf Outing. We had a great time with you all.
We'll be posting some new poetry at Elkin's page, which is aptly titled Bard 's-Eye View, in the coming weeks, so check back sometime soon. And drop us an email from time to time - we love to hear from you.
Thanks be to God for the abundant grace, the traveling mercies, and the good times shared. And especially for the 'friends we found along the way.'
See you down the road.
Here are some more of Jerry Wright's Winfield photos with his captions:
| | |
| --- | --- |
| | Bill Thurman and Dana Hamilton join Aileen and Elkin on Stage 1. Bill and Dana are on A&E's latest CD, Music of Life. |
| | Sunday morning with Aileen and Elkin |
| | And from Bellaire, Texas - the 2000 National Mountain Dulcimer Champion is Lloyd Frank Wright |
---
Springtime Rambling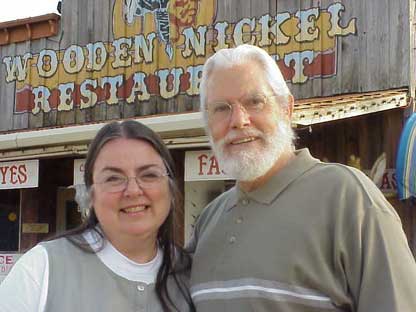 We are home at last after a long springtime ramble across America. Our travels began in February, when we traveled to Lake Sound recording studio in Keller, Texas to finish work on a new album, called MUSIC OF LIFE. It was so much fun to record the songs with the expert assistance of our friend and engineer, Rex Lake. Adding the talents of three fine players like Tommie Ward, Dand Hamilton, and Bill Thutman made us even happier. Then Aileen and gifted graphic designer Russell Lake created a beautiful package for the music, and we were done in record time.
While we waited on the CD's and tapes to be made, we created a newsletter with the help of our good friends at Software of the Future in Arlington, Texas – Sarah Lawrence, Roger Smith (our webmaster extraordinaire), and David Ricks. We sent the word out via snail mail and email. If you didn't receive either mailing, send us your email or snail mail address ASAP.
Then it was off to The Wooden Nickel in Crockett, Texas for the first concert of the year. A lovely audience, a festive front porch-style ambience, and Lloyd Wright and Bill Thurman playing along – all this (and a little magic) made for a wonderful evening. Good friends Lloyd and Margaret Wright promoted the event with some help from the following folks: Gary and Kay Hamilton, Jane Harkins, Judy and Dan Catlin, Carol Montgomery, Jim and Marian Hull, Gilbert and Pat Richardson, Troy and Joyce Dancer, and Virginia O'Quinn. Many thanks to you all for creating this great opportunity for good people to come together around music. Thanks also to Justin and Linda Marquez and the pastor and congregation at St. Timothy's United Methodist Church in Houston for inviting us to come back for an evening of our music and the sweet sounds of the Dulcimer Society. It was a joyful noise.
It's always a homecoming when we return to perform in Denton County. Thanks to Jeff and Julie Glover and their pastor, Kent Miller, for the invitation to perform at their church, Trinity Presbyterian in Denton. It was a great time and place for sharing the new songs from MUSIC OF LIFE with some of our oldest fans and dearest friends.
Dave Conrad and Sue Trei-Conrad are friends that we met in Winfield at the Walnut Valley Festival. Dave is associate pastor at First United Methodist Church/Edmond and Sue is associate pastor at First Presbyterian Church of OKC. We had a great time with the folks at both churches the first week in April. And once again, Dave and Sue gave us a first-rate tour of Oklahoma City's culinary highspots.
From OKC, we traveled to southwestern Missouri for a concert at St. Francis de Sales Church in Lebanon, Missouri. This has been our friend, Larry Krudwig's, family's church for generations. And he and Helen did their usual fine job of turning out the troops and turning up the sound. We followed them home to Kansas City the next day and enjoyed their hospitality that evening for a potluck supper and singalong with the Group Therapy gang. Then, Saturday night was our concert in that very special place, the Community Christian Church, in Kansas City. We were sponsored this year by the Missouri Valley Folklife Society. We rejoiced to see such a great turnout, and delighted in sharing our music old and new with one of the finest circles of listeners we know. A very special thank you to the Krudwigs. And also to the McClearys for their help.
The morning after the concert always brings the opportunity to share a few songs in morning worship with the congregation of Community Christian and their exciting pastor, Robert Lee Hill. It is always a highlight of our journey.
Then . . . we returned to our beloved Mother's at RPI in Troy, New York. What a joy to see many old friends, and especially to have so many former students return for the weekend. Thanks to all the Mother's committee members old and new, especially the current crew of Alex, Mike, Peter, Min, Stoddard, and JJ. And a special thank you to Mr. Mother's himself, Tom Duchesneau.
Now we can settle in for a few weeks here at Morgan's Pines and watch the springtime come to western Pennsylvania. Right now, forsythia and daffodils delight, and apple blossoms and lilacs will arrive any day. We have many blessings to count, and memories to treasure, from our recent travels. It was great to see you all.
Highlights From The Road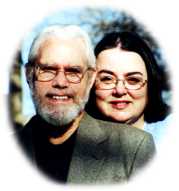 Greetings to you all from Texas, where we are putting the finishing touches on a new album. The long Pennsylvania winters have given us the time and opportunity to create a batch of new songs that really express who we are right now - as we all stride into the 21st century together.
Elkin says, "When again it's time to record, we are called from the yard, the wildness, where the music of life has re-shaped and marked us, to the porch. Once we all reach the porch, the pickin' begins, and in spite of pick noise, string noise, and other imperfections, soon we hear and feel the fray changing to pure soul, and smiles all 'round."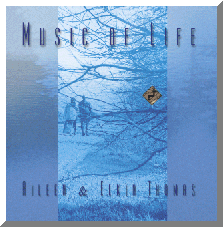 This collection of twelve songs is titled MUSIC OF LIFE, after Elkin's lyrical song of the same name. Among the other selections are Elkin's SONGS IN THE NIGHT and INTO SPIRIT SPACE, which are two different visions of the inner life; two new banjo songs - BEND IN THE ROAD, written about A&E by their old friend, Randy Rogers, and ASHES ON THE WOLF, written with Ron Schuh, Elkin's friend from Wisconsin; a new lullaby called SENECA MOON; a couple of new 12-string songs - Elkin's RUN TO THE RIVER, a powerful piece about the hero's journey, and Aileen's love song, I'LL GO WITH YOU; our versions of songs by two of our favorite artists -- John Denver's PERHAPS LOVE and Bill Staines' THE ROSEVILLE FAIR; Elkin's FOUNTAIN OF LOVE, a musical meditation inspired by Thomas a Kempis' Imitation of Christ; and Aileen's GUARDIAN PINES, about her grandmother's house beneath the Welsh pines. Check this new item out in our catalog!
Once again, talented musicians Tommie Ward and Dana Hamilton sweeten these tunes, and we also add the fine fiddle sounds of Bill Thurman to most of the cuts.
Check our concert schedule, and come out and see us if you can. And don't forget to check our website for updates and other news. We are truly looking forward to introducing you to these songs in person. If we're not going to be in your city or state, why not plan a trip to Colorado in July?
See you down the road! Aileen & Elkin
Autumn in the Alleghenies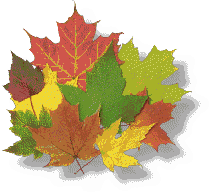 October 1999: We returned home this week to full-blown autumn here in the Alleghenies. Cobalt skies, leaves twirling in the air, apple cider, and foggy, frosty mornings. It was great seeing you all at the annual gathering in the Walnut Valley in Winfield, Kansas. The whole week there felt like a great big hug. This year's shows on Stage 1 and Stage 4 were among our favorites sets of the year. Linda Tilton blessed us with her unique gift at our Friday night set on Stage 3. The golf outing on Wednesday was great fun for Elkin. He wants to thank Felix Baz-Dresch and Gail Burden for their help in organizing the event. And also the staff at the Winfield Country Club for their hospitality.
The Sunday after Winfield found us sharing our music with the good folks at the First United Methodist Church in Hutchinson, Kansas. Dr. Allen Polen and Joyce welcomed us back for the second time, and we had a great time of fellowship in the two morning services.
We had a very enjoyable and productive trip to Texas after we left Kansas. We began work on a new collection of songs, to be released next year. Things went extremely well in the recording studio ­ we played and sang with ease. And with gratitude for the gift of song. The new album is tentatively titled THE MUSIC OF LIFE, after one of Elkin's new songs.
Now we look forward to a wonderful time of renewal here at home. Ah, the joys of home. A friend sent us these words of Melody Beattie's in a recent email:
"How often we think we don't want to be bothered with the laundry, bills, dishes, the lawn. We have other things to do, more important tasks to accomplish on this journey we're on. But doing the ordinary tasks doesn't take us away from the rhythm we're seeking. They don't take us away from life's magic. These tasks ARE the rhythm. They ARE the magic. The simple tasks are important not just because they need to be done. The simple tasks are the microcosm of how our lives work. They keep us grounded in reality, they remind us of what's real, they show us how life works. They will lead us into the way of life we're seeking, if we approach them the right way. Do the laundry. Do the dishes. Pay your bills. Rake the leaves. Do these tasks with respect. Restore and maintain order around you, and you'll feel order in your soul. Create beauty around you, and you'll feel beauty in your soul. The magic will return. The simple tasks will lead you back to it."
Hope to see some of you in State College, PA on New Year's Eve, where we'll be welcoming the year 2000 in a couple of different venues for their wonderful First Night celebration. Look for details on the Schedule page in the coming weeks.
Enjoy life and let us hear from you.
Spring time Travels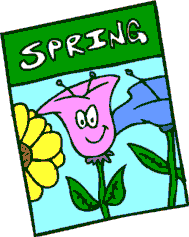 Greetings, friends.  We hope things are greening and growing wherever you are this Spring.  Our thoughts and prayers are especially with our many friends in Oklahoma, Kansas, and Texas in the wake of the violent storms that so often accompany the changing of the seasons.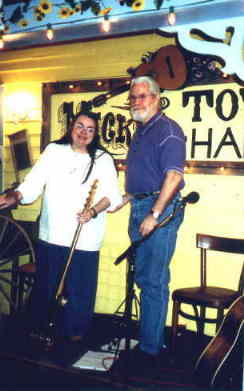 We enjoyed some good times with you all in Texas in March.  It was another great evening in Denton at the Center for the Visual Arts on March 13th. We didn't know there was a Denton-shaped hole in our itinerary until Julie and Jeff Glover and the folks at Main Street Denton filled it by putting on this annual concert for us.  Our audience grew this year ­ even more old friends to greet with hugs and reminiscences.  Getting to meet some of your kids and grandkids, and introducing you to ours, was sweet.  Much to our surprise, our 5-year-old and 2-and-a-half-year-old grandsons, Heath and Peyton, sat quietly on the front row with their dad, Mike, for the entire concert.  That fact alone is proof that it was a charmed evening.  Thanks to all of you who attended.  And for those of you who missed this year's concert ­ we're planning on doing it again next year, so . . . plan ahead, okay?
Our friends, Jerry and Margaret Wright, put together a wonderful weekend of concerts for us in Houston and East Texas -- Friday night in Houston, Saturday in Crockett, and Sunday evening back in Houston.  We will never forget the brief hours we spent at Jerry and Margaret's cabin in the woods near Crockett on Saturday afternoon and the concert that evening at the Wooden Nickel.  What a sweet place.  Our hosts, Mike and Linda Ratcliff, were gracious, the ambience was charming, and the audience warm and encouraging.  It was a magical evening.   Sunday evening with Justin and Linda Marquez and the folks at St. Timothy's United Methodist Church offered us an opportunity to serve alongside the dulcimers, harps, and assorted strings of the East Texas Dulcimer Society.   It was indeed a pleasure, and we thank you all.  (Thanks to Jane Harkins for the photo of us at The Wooden Nickel.)
We enjoyed a sunny weekend in Edmond and Oklahoma City en route from Texas to New York.  Dave Conrad invited us to come and share our music with his congregation at First United Methodist Church/Edmond on Sunday morning, April 11th.  There were three services, which Aileen referred to as Too Early, Early, and Just Right.  It was truly a wonderful time in every way. Dave and his wife, Sue, were terrific hosts.  Dave even gave us a lesson in how to hitch up a trailer.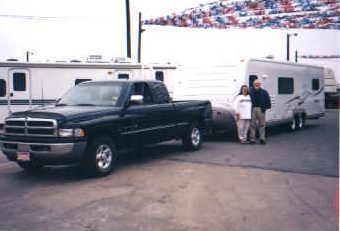 This was our first stop with our new road rig, a Dodge Ram pickup truck and Coachmen trailer, and we have a lot to learn about towing.  We carried away so many great memories of the people we met there, and we look forward to seeing many of you again.  Dave and Sue attend the Walnut Valley Festival in Winfield, Kansas every year --  maybe some of you folks at First Church Edmond will want to join us there September 16-19.
The road always leads to Troy, New York in the springtime.  Some things never change, and it was with great joy that we returned to Mother's Wine Emporium at Rensselaer Polytechnic Institute for the 17th time on April 23rd and 24th.  Tom, Peter, and a great crew of students and friends did an excellent job hosting, mixing sound, stirring spaghetti, and various and sundry other traditional tasks.  These folks are lovers of tradition, and we are pleased and proud to be a part of it all.  All of you alumni who return to celebrate with us year after year have made it special indeed. Dr. Bill Ryan wrote us the following in an email the week after, "What could one ask for that would have made the gathering better . . .The love that was in those few hours will be with us forever."  Amen.  And thanks to all you Mothers, old and new.  This year was Mother's 25th anniversary. Here are some special words we added to "Denton County Boogie" as a tribute to this classic event:
Back in eighty-three we came to Rensselaer
To play our Texas music for you engineers
At Mother's Wine Emporium we celebrate
The finest little coffeehouse in New York State.
Got a funny feelin' movin' in our bones
The music here at Mother's will go on and on
Happy Birthday Mother's ­ hope there's many more
You don't look a day over twenty-four.
Middlebury and Millers

It was a lovely day in May when we returned to Middlebury, Indiana and all the friendly folks at LVD's.  The Miller family and their beautiful audience welcomed us warmly, and it was a genuine joy to share our songs with all of them.  The Millers live on a country lane on which they are the only non-Amish family.  The concerts in the series are held in the barn, and the rustic setting is perfect for sharing the songs and stories from our journey.  The lilacs in the Miller's back dooryard were blooming riotously, the hospitality was genuine, and we had a wonderful time. 


Some images copyright www.arttoday.com