NEW RELEASE ­ "Angel of God",
A song for Christmas
by Aileen and Elkin Thomas

Shantih Records is proud to announce the release of a beautiful new song for Christmas by Aileen and Elkin Thomas. It is called ANGEL OF GOD. Shantih Records is releasing it as a "Cassingle" ­ Aileen and Elkin's performance of the song on Side A of a cassette, and the soundtrack without vocals on Side B.
We sincerely hope that this joyful song will put smiles on your faces throughout this Christmas season and for many Christmases to come. We also hope that those of you who sing, and particularly those of you who plan music for worship, will enjoy using the track. This song tells the story of the Angel and the shepherds, as told in the second chapter of Luke. It begins with a narration by Elkin and Aileen, and then joyously sings the Angel's message and the coming of the Christ child. It has a triumphant feeling that lifts the spirit. Whether you wish to sing along, or just listen, we think this beautiful song will be a great addition to your Christmas tradition.
You may find detailed information about ordering "ANGEL OF GOD, A Song for Christmas by Aileen and Elkin Thomas," on the Order Form.. It would make a great gift for any Aileen and Elkin fan this holiday season.
Shantih Publishing is also making available a choral arrangement with piano accompaniment, arranged by brilliant pianist and conductor Greg Ritchey, a Juilliard graduate and friend of Aileen and Elkin's. (see Order Form.)
Order now and receive your tape in plenty of time for the holidays. We at Shantih are also offering several different gift packages/specials for Christmas. See Order Form. for complete details.
About Joanne Koenig-Macko, International Angel Artist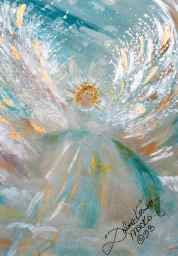 The painting that graces the cover of the new Angel of God cassette is a beautiful angel, called LIGHT OF THE UNIVERSE, by Joanne Koenig-Macko. About four years ago, according to Joanne, she was shown to paint angels, using only the energy of her bare hands and whatever nature provided. Twigs, flower stems, feathers ­ these became her brushes. The original painting of LOU, as she calls this particular angel, is seven feet tall, and she says, "I spent a summer up and down a ladder gluing pieces of mica from the earth into LOU's wings to act as a mosaic of mirrors to reflect the light. This angel was painted entirely with my bare hands, as I was told that this is healing art to go out to the world." LOU has been hung by Madeleine Albright in the United Nations, where Joanne was asked to speak in front of 23 nations, and her print has been shipped around the world. The inscription with another of Joanne's creations, the WORLD PEACE ANGEL, reads as follows:
If there is righteousness in the heart, there will be beauty in the character;
If there is beauty in the character, there will be harmony in the family home.
If there is harmony in the home, there will be order in the nation.
When there is order in the nation, there will be Peace in the World.

Aileen and Elkin were delighted to receive permission from Joanne to use her shimmering angel on the cover of their very special Christmas song, ANGEL OF GOD. Joanne Koenig-Macko's angels can be found online at her website: http://members.aol.com/dreams4all/angelpeace
Aileen and Elkin Check in with
Tales from Their Travels.
California, There We Were!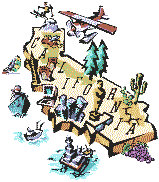 It was great to see all you dear ones in southern California after too long a time away from you. We had a spectacular time at Westlake Village United Methodist Church, and our thanks to George and Nadine Larson and the good people of that congregation who invited us all. What a wonderful turnout we had. A special thanks to our friends at KPFK, who sounded the trumpets for us ­ John and Deanne Davis, Ben Elder, and Roz and Howard Larman. You guys are the greatest.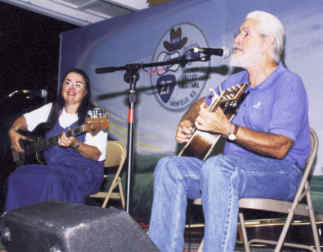 And the Walnut Valley Festival in Winfield, Kansas gets sweeter with every passing year, doesn't it? It seems that way to us. Perhaps we are learning what "The Journey" is teaching us ­ to embrace each day, and celebrate these special occasions fully. We had perfect festival weather ­ hot and dry all four days. Old friends and new faces -- we particularly enjoyed meeting the little ones ­ babies and pre-schoolers ­ who enjoy our songs. Thanks, as always, to the Redfords and all the WVA staff for creating and maintaining this very special event. The pictures here are courtesy of Walnut Valley webmister, Don Shorock.
Some of the most gratifying experiences this summer and fall were the opportunities we had to visit some of your churches and share our songs with your communities. We particularly enjoyed our visits to three Mennonite churches ­ St. John's Chapel in the beautiful Hocking Hills of southeastern Ohio, Eden Mennonite Church and Hebron Mennonite Church ­ both in the farmlands of central Kansas, and First United Methodist Church in Hutchinson, Kansas. The warm hospitality extended toward us, the sweetness of the people and their responsiveness to our music touched us deeply. Enough great memories to warm us all winter long.
Sunday Morning at Spring Gulch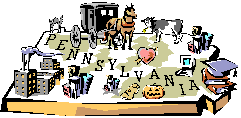 The journey to Spring Gulch was perfection. A perfect spring day ­ full sun, rhododendrons and bridalwreath in full bloom, following Amish buggies on their way to their Sunday morning gatherings, two hearts filled with song, and lovely people waiting in a beautiful setting to receive the music. Are we blessed, or what?
The Spring Gulch Resort is in one of the most beautiful places on planet Earth ­ the heart of Lancaster County, Pennsylvania. In addition, it is a beautiful camping and recreational facility. And, once a year (soon to be twice), folk music lovers from all over the eastern seaboard converge in this little oasis in the midst of these magnificent farmlands for a weekend of music and fun.
It was great to see many old friends, and exciting to meet up with new folks. We left the camera behind, so if anyone who reads this has pictures, let us know so we can share them here. Thanks to Charlotte and George Britton, and to the Kopanski clan.
16 Years at Rensselaer

Some things in life just get better and better.  Most things, actually. That was the case on April 24th and 25th as we made our annual journey to Troy, New York.  This was our 16th year to perform at Rensselaer Polytechnic Institute in Troy -- that renowned mecca for engineers.  It is always a wonderful homecoming when we go there. 
The program is run by a committee of students, so we have worked with lots of great kids over the years.  And many of them return from all over the country for our weekend there -- the Troy contingent (led by that little ole saucemaker and brewmeister, Tom Duchesneau) puts on a big spaghetti feast for all of us on Saturday.  It's been an ongoing blessing in our journey. 
This weekend was no exception -- just wonderful.  Our thanks to the Graber family -- Chuck, Carol, Mark, and Barbara -- for hosting the dinner.  Thanks to all the usual suspects who prepare their specialties for the occasion, especially Tom and Mark and Katie.  And thanks to the RPI students who comprise the current Mother's committee:  Alex, Mike, Michael, and Peter. 
Among the things we learned this past weekend is a Mohawk phrase -- "Niawen- Kowa" -- taught to us by our dear friend, Geralyn McDowell.  It means "thanks piled up many times over."  Niawen-Kowa, friends. 
Photos from this year's gathering.  Also a history of the event submitted by that eminent historian, Dr. Bill Ryan. 
The Denton "Boogie"
Well, the results are in. It's official -- they still "boogie up in Denton." At least on Friday night, March 27th, they sure did. We all did. It was wonderful to see so many old friends. Even a little overwhelming. It did warm our hearts to spend a spring evening singing to so many familiar, and dear, faces. We also met many newcomers. We especially enjoyed visiting with several folks who had western Pennsylvania connections. Julie Glover and Main Street Denton did a great job promoting the concert, and Jeff Glover did a fine job with the sound. Our thanks to them, and to Ben E. Keith for their sponsorship of the evening. Got a funny feelin' movin' in our bones that we're all gonna get together again soon!!!
On March 21st, we were in concert at First United Methodist Church in Arlington. Pastor Don Pike invited us to share our music with some of his congregation. The evening benefited the church's Better Home program, which is a comprehensive ministry to those in need of a house AND a caring, nurturing community of friends. It was a lovely gathering. Out heartfelt thanks to Don and Joyce Pike, and all who participated.
Tales from 1997
Take the Last Bus to Clarksville: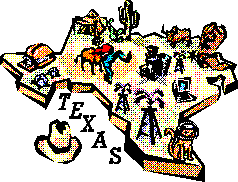 The last two stops in our season of song made us feel like we saved the best for last. The concert at the MetCenter in Keller, Texas, was a joy. So many old friends -- it warmed out hearts. Our thanks to the entire Lake Sound family -- Rex, Janie, Russell, Ron, and Jennifer -- for inviting us and making us feel at home in your beautiful new state-of-the art recording studio/music school.
Our very last stop was the Old Church Theater in Clarksville, Texas. Interestingly, it was our first stop this year, as well -- so there is a certain symmetry at work. Boyd and Teela Hurt are the greatest hosts. They dress the stage like a Victorian music salon, and put out those wonderful Texas-style refreshments -- it's the best of several worlds, and we thank them and their crew for all they do to nurture and promote the arts in their community. They are a treasure.
The 26th Annual Walnut Valley Festival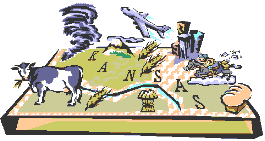 The 26th Annual Walnut Valley Festival: What can we say about the Walnut Valley Festival in Winfield, Kansas? That it is the greatest gathering built around music that we know? That being surrounded by so many gifted people is a great inspiration? That the Spirit of peace, unity, and harmony is palpable and exhilarating? That the good will of this community of friends is a comfort and a joy? Yes, yes, yes, yes. We are grateful for more than we can name as we reflect back on a week of music in Winfield.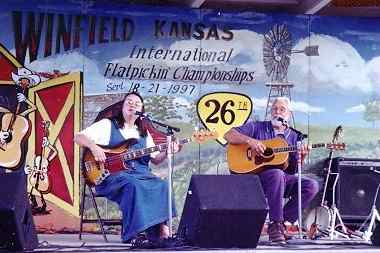 Thanks to all of you who attended our sets; to the songbirds who sang in the Walnut Valley Choir; to the stage and sound crews, especially Greg Smyer; to our "elves," Ron and Jan McCleary, David Ricks, and Larry Krudwig; and, lastly, to the Redford family, for their ongoing commitment to the music, the fans, and the festival. The river of song keeps on flowing through the Walnut Valley -- long may it roll.
Earlier in the week, we performed at Grace United Methodist Church, Southwestern College, and First United Methodist Church -- all in Winfield. We would especially like to thank Dr. James Schuppener for his help in setting up the concerts at Grace and Southwestern -- thank you, Jamie. And thank you to another Jamie -- Jamie Brothers -- who took the photos on this page.
---
The following are excerpts from an editorial from The Winfield Daily Courier, Wednesday, September 17, 1997:
HOOKED ON THE WALNUT VALLEY FESTIVAL by Dave Seaton
Thank heaven it's back. The Walnut Valley Festival, I mean -- the whole thing. The sound of bluegrass, banjos and hammer dulcimers, the invasion of campers, the chilly nights, the buzz about the fairground, the smell of smoke from wood fires and the smiles of 10,000 visitors.
My whole body relaxed when Byron Berline revved up his band at a warm-up concert in Arkansas City recently. It was like making a plane at the last minute. My brain said, "OhmygoshImadeit!" My spirit soared. Cares flew.
What is it about the festival that makes preachers and accountants grow beards, wear Australian hats, and take no notice of who takes notice? What is it that makes moms dance with their kids in broad daylight?
Better ask Bob Redford. He's the guy who thinks it all through -- with help from wife Kendra, son Brian, staff and a shipload of volunteers.
All I know is that the Redfords show a fine instinct for the tone of the times. At the festival they help set that tone. This year is a good example.
Aileen and Elkin Thomas are leading the fans back home. Their quiet brand of western and gospel duets has depth that rises out of personal experience. Elkin writes many of them.
"The journey is everything," Aileen said Tuesday night, quoting a Lakota chief. The Thomases have traveled the mountain west in a camper, living, writing songs, and performing all at the same time.
It took me a while to catch on to their stuff.
I remember five or six years ago when their crowds were sparse, especially as they wound down the weekend. Now Aileen and Elkin Thomas, with their well-blended voices and core of loyalists, have near-star quality.
Both she and he have bright eyes. The trim Elkin wears his white hair pulled back from a youthful face in a pony tail. His smile is out of a Pepsodent ad.
Aileen talks in the crowd with stories from their travels and Elkin's farm-boy past.
The Thomases did a gospel sing Sunday and a concert at Southwestern College last night and will do a concert tonight at 7:30 at the First United Methodist Church.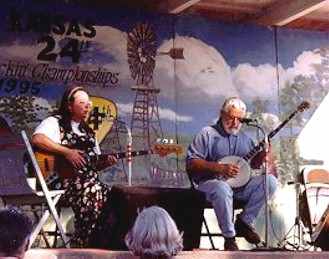 Their favorite stage at the festival remains Stage III, behind the theater barn. On Sunday morning they will perform there with the Walnut Valley Choir.
I have learned to love their music. Sometimes they come close to preaching, but that's OK, as long as they do their mournful song about the appaloosa every so often. ...
That's the way it is with festival performers. Some songs just don't leave your mind all year. You long to hear them again. ...
It is hard to imagine a better way to kick your cares and sink your teeth into the laid-back culture performers from around the world reverently call "Winfield" than to bop down to the fairground for the 26th annual Walnut Valley Festival.
Article from "The Walnut Valley Occasional" (September 18, 1997)
Walnut Valley Article
A concert by Aileen and Elkin Thomas resurrects memories of country church homecomings. Old friends gather, greet one another, and thoroughly enjoy the company. So it is at Winfield.
The personable, completely unpretentious style of this duo draws in their friends, new and old, from years and years of listening to them at the festival. There's a comfort to the familiarity of Aileen and Elkin in concert. The songs are simple, lyrical, spiritual, and narrate their absolute belief in basic human decency.
Aileen and Elkin's main instruments are their voices, known for their close and intricate harmonies. But they also accompany themselves with guitar and banjo (Elkin) and bass (Aileen).
Aileen and Elkin's music has resulted from their varied musical heritage -- folk, bluegrass, country and gospel. A gentle grace surrounds their music, extending an invitation to live all the wonder and beauty life has to offer. They sing about innocence, love, righteousness, and invite their listeners to experience life for its diverse richness.
Aileen and Elkin toyed with the competitiveness and drive of the music world, and, indeed, had already made an inroad with Elkin's song, "Jolie Girl," that was recorded and became a hit for Marty Robbins.
Instead, they went on what they describe as a pilgrimage of self discovery, living four years on a boat on a lake in Tennessee, and then settling into the small Texas village of Krum where they live the life they espouse to others.
Aileen and Elkin are participating in numerous workshops and are playing a number of sets. Do your soul a favor; sit and commune with them and their music awhile.
---
Tales From The Tundra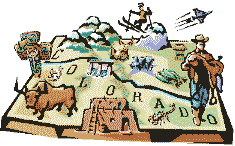 The trip to Colorado was a mind-blowing, eye-popping, heartwarming, spirit-expanding, and soul-nourishing experience. WOW -- it was mind-blowing to see ALL you folks who came so far to join us in the high, high places that we love. Our beloved Joe Kendrick was the first to find us in Ohio City on Saturday afternoon, the 18th. Joe is one of our oldest and dearest -- he was with us on the now-legendary excursion immortalized in our song, "The Denton County Boogie" (read about it in our songbook on page 66). While we were visiting with Joe, our faithful companions, Scout and Katy, alerted us to more company, and it was our beautiful godchild, Amie, with her mom, Jolene, and her grandma, Allene. Our minds are becoming blowner by the minute. Then -- we got to the City Hall in Pitkin, the concert site, and they began rolling in – Mary Sinclair from Dallas, Luckee Scott and friends from Santa Fe, the fabulous Flory family from Kansas City and San Diego, Fred Ullman from Pittsburgh, Cindy and the Whites plus a plethora of other Kansans, Okies, Texans, Missourians, and many carloads of Coloradans -- from Grand Junction to Glenwood to Buena Vista!! Just a couple hundred of our close personal friends -- and we're not kidding!! We LOVE being able to know you -- to visit with you, embrace you, and thank you personally for your friendship and support. A special thank you to the Pitkin crew, especially Betty and Ralph, Gene and Maxine, and Lucinda.
We found out at intermission that we were to lead the 9:30 AM worship service the following morning at the Pitkin Community Church. By 9:15, the church was filling -- Elkin directed the ushers to place people around and behind the platform, and invited the youngsters to come up and sit on the floor. By 9:30, there were 150-plus dear people jammed inside, and spilling out the back door. When Elkin started the first hymn, "When We All Get To Heaven," (his favorite), we thought maybe we were already there. With his sister, Betty Capshaw, at the piano, and all those joy-filled folks worshipping God in Spirit and in Truth -- well, it was like "ladles full of living water" to these two troubadours.
On to Lake City the following weekend for an equally sweet time of fellowship along the banks of the Lake Fork of the Gunnison River at the Texan Resort. Once again, about two hundred friends blessed us with their presence, and the Spirit of Love was shining indeed. The little stage alongside the river has got to be the most perfect setting for music in the world, and the morning was misty and magical and meaningful in so many ways. Dear friends, thank you -- Steve and Gayle Meredith, Wayne and Margaret King, and so many more -- we treasure your friendships.
The Walnut Valley Festival beckons -- and we can't wait to see all of you who gather with us every third weekend in September in Winfield, Kansas. Updates in our calendar are in progress as we fill out our fall with some engagements in Texas and surrounding states. Check back here at the website for further details. California -- look for us in February or March.
---
A Tennessee Tale
What a joy it was to be in Wartrace and Shelbyville, Tennessee, May 16 and 17. The blackberry blossoms were blooming all over the rolling Tennessee hills, and many of us brought our Gallagher guitars home to Wartrace for Gallagher Guitar's Birthday Party. Don Gallagher and family are celebrating 32 years of excellence -- the beauty and craftsmanship of these fine instruments continues to improve since Elkin bought three guitars from Don and his father, J. W. Gallagher, back in the late sixties and early seventies.
This is the second celebration that Don, wife Jean, and mother Hazel have held in the tiny town of Wartrace. The concerts were held in the beautiful Calsonic Arena in nearby Shelbyville. Doc Watson, Steve Kaufman, and all the other artists who performed are Gallagher owners. The weather was sheer perfection, and there were wonderful folks who gathered in from surrounding Tennessee towns, and from Alabama, Georgia, Missouri, Arkansas, Texas, Colorado, Florida, Mississippi, Illinois -- and those are just the ones we met personally and got on our mailing list! Many brought their guitars home, and quite a few picked up brand new guitars.
The person who came the farthest was Alfred Joseph from the Caribbean island of St. Lucia. Alfred came to pick up his beautiful new Gallagher cutaway, and seemed to enjoy himself, as we all did. Elkin and I said afterward that it was like coming home to a family we didn't know we had. (See photos) For more information about Gallagher Guitars, visit their new website. If you want to know more about the Elkin's Gallagher Guitars, read the article about Elkin's instruments, written by our friend, Ben Elder.
---
Springtime on the Prairie: Tales from Texas and Kansas

Our springtime travels are ended, and what a trail of blessings. Too many to count. But let's try. We began in Clarksville, Texas, at the Old Church Theatre. This old theatre is a beautiful space for music, and Clarksville is home to some of the kindest and friendliest people we have met. As usual, Boyd and Teela Hurt and their fine staff outdid themselves in the hospitality department. We were newly arrived in Texas, so the homemade chili and fixin's that they spread out at intermission really hit the spot. Thanks to all who attended, and volunteered.
Next stop was the Piney Woods Pickin' Parlor in Mineola, Texas. What could be finer than this beautiful old ballroom on the second floor of the newly restored Beckham Hotel in this quaint little Texas town? It's one of our very favorite places to play, owned and operated by one of our favorite people, the talented John DeFoore. We set an all-time record for train whistles during our concert, we think. Old Santa Fe accompanied us right on through the evening, and we just kept on singing.
We went on down the road a piece to Jacksonville, where we entertained the good folks at Roland's Next Door, and also at the First United Methodist Church. The highlight for us here was hearing young Ben Idom take his first baby steps on the five-string banjo. We predict a great musical future for this talented young man, and have named ourselves his official mentors.
We took the bluebonnet trail down to Houston for the Second Saturday in April. We look forward to our annual concert, hosted by the Houston Folk Lore Society. This year, the wonderful Wright Family opened the show for us, and we were touched by the joyful noise they made! So many old friends there -- Kim Haynes even flew down from Salt Lake City to spend the evening with us. We led in worship the following Sunday morning in Baytown at St. Mark's United Methodist Church, and were blessed by the kind hospitality extended toward us by old friends and new friends.
And what can we say about Kansas City? It was so exciting to bring our new song, "The Arabia," home to KC. Friday evening at the Arabia Museum was special! Singing the song beside the turning paddlewheel, with the Hawleys looking on -- well, it was great! The Hawley and Mackey families came to the concert on Saturday night, along with a couple hundred of our close personal friends. Well, that's the way it seems, anyway. Larry Krudwig made us sound like angels, and the gorgeous sanctuary of the Community Christian Church, designed by Frank Lloyd Wright -- well, we were in good creative company. A woman told Elkin at intermission, "My brother in San Diego got your recent mailing, and called me and told me to get here and hear you!" Our old friend, Mike Wilson, surprised us. Mike has been coming to hear us since he was nine years old -- he's 25 now, and drove down from Minneapolis for the concert! Like we said -- too many blessings to count. Thank you is not nearly enough to say to Larry and Helen Krudwig and their wonderful crew! We had no idea what a treasure we had found when we met them on the grounds of the Walnut Valley Festival in Winfield, Kansas many years ago. This concert in KC is sponsored by our friends and fans, and we thank them all. A special thanks to Royce and Betty Smith, who give up their driveway to the Prairie Eagle whenever we're in town.
Next stop -- Troy, New York, home of Rensselaer Polytechnic Institute, and Mother's Wine Emporium. Mother's is a coffeehouse in the Student Union that has been hosting great folk artists for 25 years next year! It was a great time, as always. Tom Duchesneau and company put on an annual spaghetti dinner for us all, and what a fine tradition it is! The menu never varies -- Tom makes his special sauce and the chocolate pound cake, Katy Waggener bakes the angelfood cake with fresh strawberries, and we had a couple of understudies in major roles this year. Pam and Ira Bland couldn't make it, so Deborah DeVries made pecan pies and got rave reviews, and in the absence of Mark and Susan, Chris and Robin stepped in with the garlic bread. We missed you first-stringers, but it's good to know we have back-up when it's needed!
Keep checking in here at the site. We will have more time in the coming weeks to check in with more news and updates. Also photos. We look forward to hearing from all of you. Let us know what's on your mind.
---
"Like a River" is what's new.
Like a River is the newly released album by Aileen and Elkin Thomas on Shantih Records. Aileen says, "How wonderful it is to be harvesting another season of songs in this, our 25th anniversary year. Thanks to all of you who await, and welcome, our work. Your receptivity, response, and continuing support call forth these gifts, and we thank you."
The music on the album is simply produced. Tommie Ward's beautiful acoustic guitar enhances the rich, full sound of Elkin's six-string Gallagher, and together they really flow, well, Like a River.
Elkin says,
"Tommie has an uncanny sense for playing with me. He is sensitive and intuitive. He's like a weaver who picks up my dropped stitches."
Good friend and Winfield champion, Dana Hamilton, adds just the right flavor to several songs with his hammered dulcimer, old-timey banjo, and autoharp. Elkin plays more harmonica than he has in a while, and Aileen says,
"I love his harp playing so much. We finally bought him some new harps, and we were shocked when we found out how much they cost these days. I told him he'd better play something sweet, and boy, he did."
Aileen and Elkin both think that this is the most interesting, and varied, collection of songs they have recorded. Among them is "The Arabia", which tells the story of a great sidewheel steamboat that sank in the Missouri River in 1856, and whose salvaged cargo is now fabulously displayed at the Arabia Museum in Kansas City. Also "Lift the Wings" from the phenomenal "Riverdance"; "Willow John", a lovely and haunting song that Elkin adapted from a poem in Forrest Carter's wonderful book, "The Education of Little Tree"; the title song, "Like a River", based on First Corinthians 13; three songs from the Psalms; a traditional Hebrew folk song called "Lecha Dodi"; Eric Andersen's "Thirsty Boots" and a new benediction called "The Blessing".
Check out the Catalog for more information.
---
This Web Site is what's new!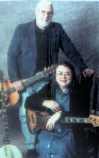 Aileen and Elkin say:, " Wow -- here we are in cyberspace. There are some very special people we want to thank for putting us here.
All our friends at Software of the Future, creators and distributors of the fabulous MarketForce program, have made this site possible.
Firstly, we want to thank Roger Smith, aka Roger the Great, master of legerdemain and true domain. Roger designed this site with his usual ingenuity and flair.
A special thank you, also, to Sarah Lawrence, for her countless kindnesses.
Thank you to Gary and Kathryn, too.
And, last but not least, our thanks to their generous boss, David Ricks, who made their talents available to us. We can't begin to express our gratitude for David's friendship and support.
Collectively, we have affectionately re-named them FolkForce, and we are here because of them."
"We have high hopes and big plans for the Web Site. We see it as a way to stay in touch with the extended family we call our audience. We hope to update these pages often with tales from our travels, excerpts from our journals, and whatever else we feel like sharing. We hope others will share with us, also, and look forward to hearing from lots of folks. Let us know what you think of the Site."
Blessings, Aileen and Elkin


Some images copyright www.arttoday.com